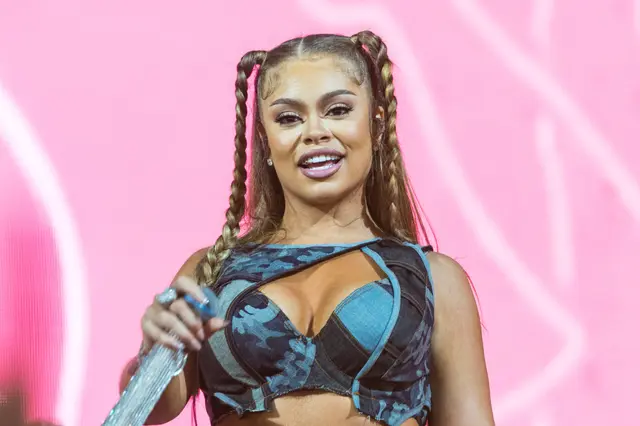 Rap's female artists haven't offered hip-hop fans many albums this year, but they have consistently released quality songs. The City Girls' collaboration with Diddy and Fabolous on "Act Bad," Ice Spice and Nicki Minaj's "Princess Diana (Remix)" and "Barbie World," Latto's "Put It On Da Floor," and others are among the biggest songs we've heard recently. With Cardi B joining her on the official remix, the latter encouraged GloRilla and other lyricists to contribute their own verses to the catchy song.
This New Music Friday (July 14), the Atlanta-based artist returned with something to top her June single. Rather than operating solo or connecting with another rap diva, she stepped out of her comfort zone to work with BTS member Jungkook. Latto and the foreign performer put together a raunchy track called "Seven," and little more than 24 hours after hitting DSPs it's already broken a major Spotify record.
Latto and Jungkook Make Spotify History
.@Latto earns the biggest streaming debut for any rapper in global Spotify history with "Seven" with #JungKook. pic.twitter.com/8IE0i2441s

— chart data (@chartdata) July 15, 2023
"@Latto earns the biggest streaming debut for any rapper in global Spotify history with 'Seven' with Jungkook," @chartdata reported via Twitter early this morning. If you're familiar with BTS, you know that their fanbase – the Army – doesn't play, so seeing Jungkook's solo single get a mass outpouring of support isn't at all surprising.
The blonde beauty is definitely excited about achieving new accolades as she grows as an artist, but the arrival of "Seven" doesn't mean she's done promoting "Put It On Da Floor" just yet. She recently shared a video twerking along to her and Cardi's remix at the club, and this weekend, we once again got a preview of Latto throwing it back to her hit single.
Rap Diva Continues to Promote "Put It On Da Floor"
Feast your eyes on Latto's latest twerking video below.
https://twitter.com/XXL/status/1680155242292207616?ref_src=twsrc%5Etfw%7Ctwcamp%5Etweetembed%7Ctwterm%5E1680155242292207616%7Ctwgr%5Eab7d290e00fe614e4f42e129de6e2aa9443c5d95%7Ctwcon%5Es1_&ref_url=https%3A%2F%2Fwww.hotnewhiphop.com%2F695744-latto-close-up-twerking-video-seven-jungkook-collab
Follow our socials Whatsapp, Facebook, Instagram, Twitter, and Google News.