WhatsApp Channels Launches Worldwide as it  announces that it will be expanding its Channels function so that it may support broadcasted messages. According to the firm, Channels will soon be accessible to all customers in more than 150 countries over the course of the next few weeks.
Mark Zuckerberg made the announcement on his new WhatsApp channel that the feature would soon be rolled out.
"I'm excited to introduce you all to WhatsApp Channels, a new private way for you to get updates from the people and organizations you follow on WhatsApp," the company said in a statement. I'm going to use this channel to talk about the latest developments in the Meta world," he explained.
Channels were initially made available on WhatsApp in the month of June, but only to subscribers in Colombia and Singapore. In July, it began rolling out this capability to an additional seven countries.
WhatsApp Channels Launches worldwide that can be found on a separate tab within the app, and only you will be able to see the channels that you are currently following. In addition, sensitive information associated with your account, such as your phone number, will not be seen by admins or followers of your page.
Even though one-to-many communication via broadcast messages will continue to be a channel's core function, the firm is developing additional ways for users to communicate with one another, such as the capacity to respond with emojis. Under each message, users will be able to view the total number of reactions that have been received.
Read Also;WhatsApp to allow users edit sent messages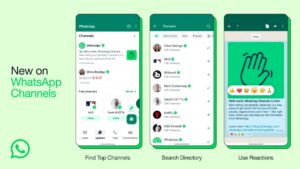 As a result of the global introduction of WhatsApp, the directory that allows users to identify channels based on their country will be upgraded. You have the option of sorting this list by newest entries, most recent activity, or most common searches. When users forward an update from a channel to a group or an individual, the update will contain a link back to the channel from whence the update originated.
WhatsApp is offering the capability for admins to amend a message for up to 30 days after it has been sent. You have fifteen minutes to amend messages sent to individuals or groups via the chat application, but you have that option.
It is important to note that Meta continues to limit the opportunity to launch a channel to a small group of individuals or organizations. The company has stated that one of its long-term goals is to make it possible for anyone to launch their own channel.
The company has stated that Olivia Rodrigo, David Guetta, Billboard, Major League Baseball, and Zuck are among the significant additions to channels that were made in conjunction with the global launch. WhatsApp did not reveal the precise number of channels that are accessible through its platform; however, the company did state that there are "thousands" of them. Additionally, WhatsApp has its very own channel that users may use to discuss various aspects of the service.
Read Also;WhatsApp Introduces A Feature To Automatically Silence Incoming Calls From Unknown Numbers.
In June, Meta completed the global rollout of the Channels feature on Instagram. This feature is a one-to-many communication channel that is designed to link content creators with their respective audiences.
During the course of the past year, WhatsApp has conducted experiments with features that cater to groups of varying sizes. In November of 2016, the company released Communities with the intention of easing the process of multigroup communication in settings such as schools, resident complexes, and clubs. In the past month, WhatsApp has introduced a new feature that enables users to create groups with a maximum of six members without having to give the groups a name.
Follow our socials Whatsapp, Facebook, Instagram, Twitter, and Google News.