A new function has been added to WhatsApp that would automatically mute incoming calls from unknown numbers.
This comes as a result of many consumers in India, the chat app's largest market with more than 500 million users, having recently lodged complaints about a spike in the number of spam calls they have been receiving over the past few months.
On Tuesday, Mark Zuckerberg revealed a new privacy inspection option in addition to a function that allows users to silence incoming calls.
"You can now automatically silence incoming calls from unknown contacts on WhatsApp for even more privacy and control," he said. "This new feature is available to all users."
Users will have the ability to activate this feature by navigating to Settings > Privacy > Calls and selecting the "Silence unknown caller" option from the drop-down menu. WhatsApp has stated that despite the fact that calls from unknown numbers will be automatically muted, these calls will still be visible in the app's alerts and call list.
---
This is for your convenience in the event that you wish to check later to see if it was from a person you know but do not have their number saved in your contacts.
When you receive a call from an unknown number, the phone will just show you the number along with the words "silenced unknown number."
In a separate development, WhatsApp has introduced a whole new privacy inspection option that can be found under the Privacy tab. The checkup will lead you through a series of stages to make you familiar with a variety of privacy choices, such as "Choose who can contact you," "Control your personal info," "Add more privacy to your chats," and "Add more protection to your account."
Through this process, users have the ability to alter settings such as two-factor authentication, determine who can add them to groups, create a default timer for disappearing messages, and manage who can view their profile picture.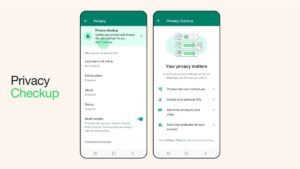 ---
Other options include choosing a default timer for vanishing messages.
Back-end improvements made by WhatsApp in the past month should help lower the number of spam calls made to users in India.
The company reported that it has increased the capacity of its machine learning-based detection system and expected the number of these calls to drop by fifty percent.
Follow our socials Whatsapp, Facebook, Instagram, Twitter, and Google News.