Spotify's new showcase tool was just released by Spotify this week. It gives musicians the ability to advertise their work directly within the updated Home feed that was introduced earlier this year for the Spotify streaming app. Artists have the ability, through the usage of Showcase, to generate a mobile card that may be used to present their music, both new and catalog releases.
This mobile card then displays as a sponsored recommendation on the mobile Home Screen of listeners.
This Home Screen is the most visible location to advertise in Spotify's app, as the business claims it is the most frequented place on Spotify, and billions of streams come from it every day. As a result, this Home Screen is the most prominent location to advertise in Spotify's app. The company says that consumers who are exposed to a Showcase promotion have a sixfold increased likelihood of streaming the release that is being pushed.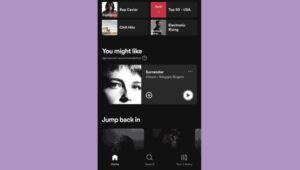 ---
Artists have the ability to personalize their cards by adding their own headlines, such as "new music," "recently released," "release anniversary," "getting buzz," and more, as suggested by Spotify. This allows consumers to understand the context of the music being advertised. The advertisement will be displayed at the very top of Spotify's Home page.
At an event called "Stream On" that took place earlier this year in Los Angeles, the new feature was among a variety of other growth and discovery tools for artists. These included the full-screen recommendations known as "Marquee" and a new tool called "Discovery Mode" that enables artists and their teams to identify songs that they want to be prioritized on the streaming service.
The company has announced that it is opening up Showcase to artists and their teams who have their billing located in the United States and have had at least 1,000 monthly streams in at least one of the target areas in the most recent 28 days. under the following few weeks, the feature will become widely accessible to artists based in the United States under the dashboard of Spotify for Artists.
Spotify's new showcase tool will display the promotion to a large audience by default, consisting of people who are likely to stream the release. However, artists are able to modify their campaigns in order to target specific sorts of listeners. These listeners might range from the artists' most devoted and active fans (sometimes known as "super listeners") to casual music fans.
Read Also;Apple fights Spotify's EU antitrust charge during hearing.
According to the document provided by Spotify, the minimum budget for advertising is $100, and ads will continue for 10 days or until the budget is expended, whichever comes first. advertising can also be paused at any time. It is possible for the price of a campaign to alter depending on factors such as the market or the audience that is targeted.
Phoebe Deards, Product Marketing Manager for Spotify for Artists, noted in an announcement that "We're constantly talking with artists and their teams to better understand how we can help them grow their fan base more effectively." "We're constantly talking with artists and their teams to better understand how we can help them grow their fan base more effectively,"
Read Also;Spotify Adds Shared Volume Control To Group Listening
"While playlist pitching offers a chance for artists to reach new audiences and Marquee helps them make an impression for their new releases, there are more opportunities than ever before for marketing to drive impact in today's music industry. Artists are always looking for new ways to pique the interest of listeners and encourage them to engage with more of their music. Showcase gives them the ability to do exactly that: now artists can amplify a new release, give their library an encore, turn viral buzz into long-term devotion, and more – directly at the times that matter the most and on the most visited destination on Spotify: Home," she added. Showcase also gives artists the option to turn viral buzz into long-term fandom.
Follow our socials Whatsapp, Facebook, Instagram, Twitter, and Google News.