On Friday, Apple fights Spotify's EU as it  will attempt to defend itself against a new EU antitrust complaint and a possibly large fine tied to claims that it hinders music streaming providers such as Spotify from alerting users of other purchase alternatives outside of Apple's App Store.
The allegations in question relate to allegations that Apple stops Spotify from informing users of other buying possibilities.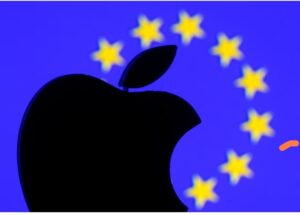 ---
During a private hearing that will take place in Brussels, the company that makes the iPhone will present its case to senior officials from the European Commission and their counterparts from national competition agencies.
In the beginning of this year, antitrust authorities from the EU strengthened their case against the company's so-called anti-steering obligations. However, they withdrew an earlier charge against Apple's requirement that developers utilize its in-app payment system.
A fresh and innovative legal argument in the context of an antitrust action was presented by the Commission when it claimed that the anti-steering responsibilities violated EU regulations against unfair trading conditions.
Apple has stated that there is no merit in the case that was started by a complaint filed by Spotify in 2019, pointing to the Swedish music streaming service's dominant market position in Europe, where Apple Music trails in third or fourth place in most EU nations. The lawsuit was triggered by a complaint filed by Spotify in 2019.
Apple fights Spotify's EU, Its other point is that it has updated guidelines to allow reader apps such as Spotify and Netflix to include links to their website for sign-ups and user payments. This allows app developers to avoid the disputed 30% App Store fee that Apple imposes.
Reader apps typically require a payment upon sign-up in order to access material like e-books, videos, and music files.
Spotify, which will also be present at the meeting, has encouraged the Commission to make a decision as quickly as possible. The EU executive has stated that it does not provide any remarks on the possibility of oral hearings or the date of those hearings.
Follow our socials Whatsapp, Facebook, Instagram, Twitter, and Google News.