X, formerly known as Twitter, has introduced a government ID account verification system for premium users. This system is intended to deter impersonation and provide paid users with additional perks such as "prioritized support."
The social networking platform has formed a partnership with the identity verification company Au10tix, which is situated in Israel. The pop-up requesting ID verification suggests that the Au10tix may store this information for up to a month's time.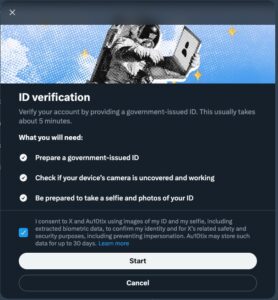 ---
According to the help page for verification on X's website, ID verification may be accessible in "numerous countries," but it is not available in the countries that make up the European Union (EU), the European Economic Area (EEA), or the United Kingdom. This is most likely the result of the region having particularly severe rules regarding the protection of personal data.
Verification based on identification seems to be an unnecessary step that, at the moment, brings about absolutely no advantages. The corporation has indicated that it may restrict access to some content based on the user's age as determined from their ID.
Read Also;Meta, Microsoft, And Hundreds More Own New Twitter Name Trademarks
It was stated that "X is currently focusing on account authentication to prevent impersonation and may explore additional measures, such as ensuring users have access to age-appropriate content and protecting against spam and malicious accounts," in order to keep the platform's integrity intact and protect healthy conversations.
Users who successfully pass the verification badge will receive a notification that their government ID account verification has been checked and approved. However, you will not be able to view it until you click on the blue checkmark that is located on the profile page. Additionally, the business stated that users who have their IDs verified will receive "prioritized support from X Services," however it is unclear what this phrase actually implies.
Notably, the corporation introduced a new feature one month ago that allows premium users to conceal the checkmarks that appear on their profiles.
X has indicated that, in the not too distant future, it intends to hasten the approval process for checkmarks in the event that a user validates their IDs. In addition to this, individuals will be able to alter their names, usernames, or profile photographs frequently without having the checkmark removed from their accounts.
Only paid customers can take advantage of the ID-based verification service that the company is now providing. Ironically, although X claims to be working to reduce impersonation and spam, it does not provide verification capabilities to all of its users.
Read Also;Twitter rival debuts as Meta unveils Threads app
This past April, Twitter did away with its long-standing verification mechanism and deleted checkmarks from user profiles as a result. However, because that resulted in a great deal of confusion, the firm decided to bring back the checkmark for top accounts.
The privacy policy of the social network was modified one month ago to reflect the fact that the platform is now able to record users' biometric information as well as their educational and employment backgrounds.
"This will additionally help us tie, for those that choose, an account to a real person by processing their government-issued ID," X said in a statement to Bloomberg at that time. "This will additionally help us tie, for those that choose, an account to a real person." "This will also assist X in warding off impersonation attempts and making the platform a more secure environment."
Follow our socials Whatsapp, Facebook, Instagram, Twitter, and Google News.