Apple Music has once again elevated the music streaming experience as it introduces an exciting new feature called "Discovery Station." that is set to redefine how users discover fresh tunes.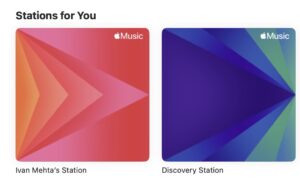 ---
This came as an effort to better compete with Spotify's tailored playlists, Apple Music's mobile application now has a brand new algorithmic radio station known as "Discovery Station."
The competitor service to Apple, which is located in Sweden, has for many years now provided its recognizable "Discover" playlists. Apple Music has begun rolling out the new station allowing users to discover new music as a direct response to the aforementioned issue.
Read Also;Apple Introduces Bilingual Siri And A Full Page Screenshot Feature With iOS 17
Apple music introduces "Discovery Station" that will only play new songs that you haven't heard before. These songs will be ones that aren't on any of your playlists, songs that you don't like, or songs that aren't in your music collection. There is already a 'New Music Mix' available on Apple Music; however, it is only allowed to contain 25 songs and is updated once each week.
Read Also;Samsung foldable phones challenge Apple premium dominance
Apple also provides a personalized station that is named "[User Name's] station," and it plays a combination of your favorite music as well as a few other tracks that are similar.
Although the business has not made any formal announcement about the new algorithmic discovery playlist, it has begun to show up for users on Apple Music both on the website and on the mobile applications. If you are unable to view the playlist in the app quite yet, there is a direct link to it that can be found on MacRumors.
Follow our socials Whatsapp, Facebook, Instagram, Twitter, and Google News.