Watch a full episode of Peacock shows on TikTok as it is experimenting with a new method for promoting its shows, which involves uploading complete episodes on the widely used short-form video application TikTok.
The first episode of the second season of "Killing It" will be made accessible to watch for free on TikTok, the parent company NBCUniversal announced on Monday. This will be a first for the company.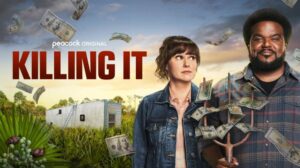 ---
The first segment of the pilot episode is now available on Peacock's TikTok account, which has been divided into five distinct portions for the convenience of viewers. The length of each movie is somewhere between three and eight minutes.
The move is undoubtedly intriguing in light of the ongoing SAG/WGA strike, which has resulted in the production of a great deal of television shows and movies being put on hold. Peacock probably has high hopes that its new tactic using TikTok will attract new viewers to the series, given that stars are unable to promote their work to followers in any other way than through social media posts. In addition, there has been a new trend among users of TikTok to upload full-length movies and television shows.
After a similar decision was made by competitor Paramount+, the first three episodes of "Killing It" have also been uploaded to the video-sharing website YouTube. After premiering on the streaming service in May, the second episode of Pete Davidson's "Bupkis" was just recently posted by Peacock to YouTube one month after the show's premiere.
Watch a full episode of Peacock, in the film "Killing It," the actor Craig Robinson of "The Office" plays the role of bank security guard Craig Foster, who has aspirations of becoming an entrepreneur. After that, he has a chance encounter with a woman named Jillian, who works as an Uber driver. She is played by Claudia O'Doherty, and she is the one who exposes him to the world of state-sponsored python hunting. Foster, for some inexplicable reason, regards this strategy as an excellent means by which he might accomplish his aims.
Read Also;TikTok Competitor Triller Has Filed For Public Disclosure
The second season picks up right where the first left off, with Foster continuing his crazy quest of hunting snakes and generating money. The palmetto berry farm that is owned and operated by Foster and Jillian is in danger of failing due to the presence of both human customers and an infestation of snails.
The first episode of the season's eight-episode run will air on Peacock on August 17.
Follow our socials Whatsapp, Facebook, Instagram, Twitter, and Google News.