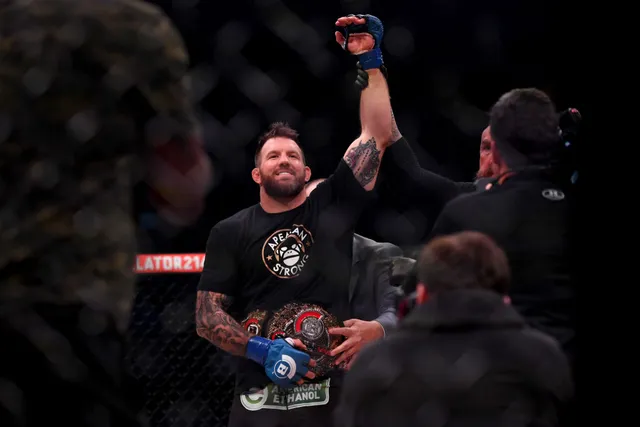 Bellator is putting all the pressure on the UFC after the announcement of the fight card headliners for October's Bellator 300. The marquee event in San Diego is set to feature four separate title fights in one of the biggest MMA spectacles in recent memory. At the top of the card is Ryan Bader versus Linton Vassell for the men's heavyweight belt. The 40-year-old Bader (31-7, 1 NC) has won his last three fights, all title defenses. Meanwhile, Vassell (23-8, 1 NC) has won his last five, four by knockout. In another legendary veteran match, Cris Cyborg (26-2, 1 NC) defends her women's featherweight belt against Cat Zingano (14-4).
However, that's only half of the title fights at the event. A Bellator Lightweight World Grand Prix semifinal between Usman Nurmagomedov (17-0) and Brent Primus (12-3) will see the Russian fighter put his men's lightweight title on the line. Elsewhere, Liz Carmouche (19-7) defends her women's flyweight belt against her teammate Ilima-Lei Macfarlane (13-2).
Bellator Heaps The Pressure On Dana White And The UFC
https://twitter.com/BellatorMMA/status/1689377241937920000?ref_src=twsrc%5Etfw%7Ctwcamp%5Etweetembed%7Ctwterm%5E1689377241937920000%7Ctwgr%5Efc4f889a72c6051faa806454f120a5f6a57bfab0%7Ctwcon%5Es1_&ref_url=https%3A%2F%2Fwww.hotnewhiphop.com%2F701939-bellator-300-main-card
The card for Bellator 300 puts immense pressure on Dana White to deliver at UFC 300, which will likely take place in Q1 2024. There are a lot of big fights still scheduled in the UFC for 2023, meaning that a lot of marquee fights could be out of commission if UFC 300 is too early in the year. Furthermore, Bellator putting up a card with four serious and legitimate title fights adds another element of pressure to proceedings. A lot of people expect the announcement that Musk v. Zuckerberg will be part of UFC 300. That can no longer be an option. Yes, it will bring in viewers. However, Bellator has thrown down the gauntlet by putting up its big-name fighters. The UFC needs to respond in kind.
Maybe White has a plan. Perhaps Conor McGregor is being saved for UFC 300. However, Bellator is once again proving that parity in the UFC is quickly improving. UFC isn't the only draw anymore. Furthermore, the promotion as a whole is in a fascinating point of transition. Stars are leaving while still in their prime and there is a definite generational gap. There is a group of young, talented fighters who are quite ready for primetime. Meanwhile, the old guard is quietly slipping away. Of course, there are still the likes of Jon Jones and co. However, Bellator 300 should definitelyy serve as a wake up call for Dana White.
Follow our socials Whatsapp, Facebook, Instagram, Twitter, and Google News.