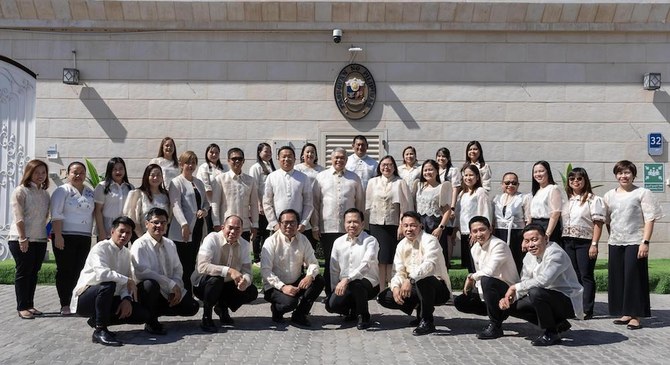 ---
MANILA: The Philippines will focus on strengthening its ties with the UAE in the areas of innovation and technology, its envoy told Arab News on Saturday as the two countries celebrated 49 years of bilateral relations.
Manila and Abu Dhabi established diplomatic ties on Aug. 19, 1974, and Filipinos were among the first expatriates to come to the UAE in the 1970s to help develop the country.
Currently, around a million Filipino expats live and work in the UAE, making the Emirates their second-largest employer after Saudi Arabia. Most are employed in hospitality, healthcare, construction, the creative industries, or housekeeping.
"Relations between the Philippines and the UAE have always been based on Filipinos' deep connection with Emiratis and all the people in this country. Our two governments are focused on providing a bright and prosperous future for our people," Ambassador Alfonso A. Ver told Arab News.
The two countries have recently been in talks over a free-trade agreement and have expanded cooperation in new fields, with three major cooperation agreements signed since last year, relating to the fields of space, agriculture, and investment.
An agreement was signed in December 2022 between the Philippine Space Agency and the UAE Space Agency to conduct joint research and development, to exchange data for use in tackling climate change, and to cooperate on disaster management, emergency response, food security, and agriculture.
In June 2022, the Philippine Department of Agriculture and the UAE Ministry of Climate Change, Agriculture and Environment signed an MoU to collaborate on soil science and management, biotechnology, agricultural innovation, technology, irrigation and water resources.
That same month, the countries signed an investment promotion and protection agreement, which has paved the way for the Philippines' broader access to the Middle East.
"Our bilateral relations continue to evolve into new areas focused on innovation and technology," Ver said, adding that work is underway to expand cooperation into the sectors of artificial intelligence, defense, and culture, as well as climate change.
"The Philippines is interested in climate-change cooperation with the UAE, and we also want to explore UAE investment in renewable energy projects in the Philippines — very timely given the UAE's COP28 hosting, with the widely known fact that the Philippines is among the nations most vulnerable to climate change."
Ver sees potential, especially for younger Filipinos, to benefit from this increased cooperation.
"The complementarity between our two countries — for example, the Philippines' young and technology-savvy professionals and the UAE's knowledge-driven economy — ensures that there will be mutual benefit from cooperation," he said.
Follow our socials Whatsapp, Facebook, Instagram, Twitter, and Google News.