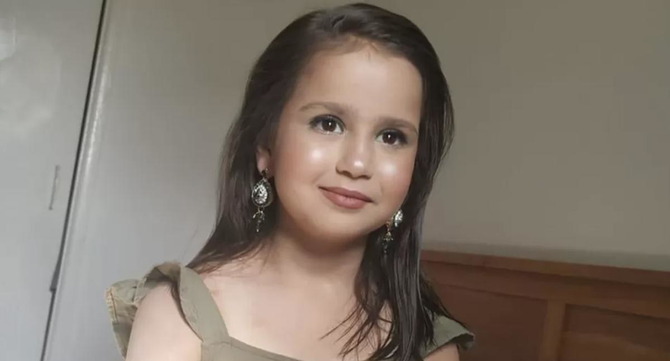 LAHORE: Pakistani police are seeking to arrest a man in connection with the death of his 10-year-old daughter in the UK, officers in the eastern Punjab province said Saturday.
Sara Sharif was found dead at her home in Woking, on the southern outskirts of London, on Aug. 10, UK police said in a statement. They identified her father, Urfan, his partner, Beinash Batool, and Urfan's brother, Faisal Malik, as people they want to speak to as part of their investigation.
An autopsy didn't establish a cause of death but did show that Sara had suffered "multiple and extensive injuries, which are likely to have been caused over a sustained and extended period of time," the police statement said.
Urfan Sharif traveled to the Pakistani capital, Islamabad with Batool and Malik on Aug. 9. There are five children with them, ranging from 1 to 13 years of age, the statement added.
Sharif's family home is in Jhelum, Punjab, around 135 kilometers (84 miles) from the capital.
Officer Imran Ahmed said police found evidence that Sharif briefly returned to Jhelum, before leaving and going into hiding. Another officer in Jhelum, Nisar Ahmed, said he and his men went to Sharif's native village of Kari but learned the family left around 20 years ago and never returned.
UK police said they were working with international agencies, including Interpol, the National Crime Agency and the UK Foreign Office to progress their enquiries with Pakistani authorities.
Follow our socials Whatsapp, Facebook, Instagram, Twitter, and Google News.