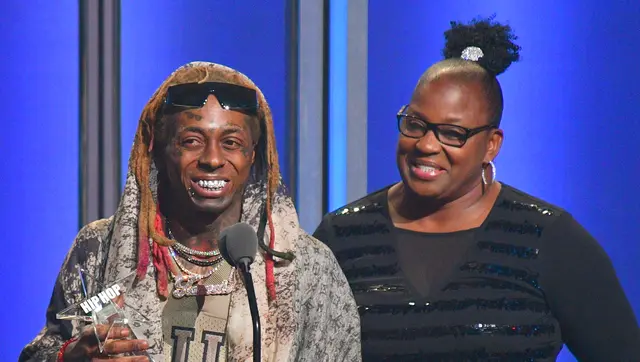 With a career spanning more than twenty years, much has been written about Lil Wayne's development, upbringing, and background. The New Orleans great also always expresses love, credit, and gratitude to the women who supported him along the way whenever he thinks back on his life's path. In some cases, like in this one, it's his baby mom, but other times, like in this one, it was his mother, Jacida Carter, who taught him more than he could have ever imagined. The Pivot Podcast recently welcomed him for an insightful discussion during which Weezy shared what he did with his first sizable cheque. Additionally, he learned from that experience that money isn't everything, something he still remembers today.
"First big check, though?" Lil Wayne remarked. "I just gave it straight to her. Gave it straight to my mom, and the first thing she did was give it straight back. You know, with this check, we got three digits before the other three digits. We had never seen that in our lives, you know what I mean? She was like, 'Boy that's yours. You made that.'
Lil Wayne Thanks His Mother For Teaching Him The Value Of Money
"Goes to show you how we are," Lil Wayne continued. "Just that right there, I mean, that just taught me how to be with money right there at that moment. It taught me that it doesn't mean nothing. I'm like, 'You don't need nothing out of this?' She was like, 'I don't need nothing.' I was like, 'I'm going to build you a house.' And she took, like, the least she could take to build the house. But that taught me from that moment that it's just paper. That don't mean too much."
Also during his talk with the Pivot crew, he revealed why he probably won't release another installment of his various classic mixtape series. "The times changed," Tunechi explained. "So what happened is, back then, I could do that. Nowadays, if I do that, the times have changed so much to where nothing is official as far as [dropping] an official album. As soon as it drop, those artists are calling our people like, 'Aye, we want that to be a single.' They about to pull that off, pay how much you want to pay for it, boom, that's the original new verse. Ain't no such thing as a remix no more, so that's all it really is. And that's what takes the allure of what I was doing."
Follow our socials Whatsapp, Facebook, Instagram, Twitter, and Google News.