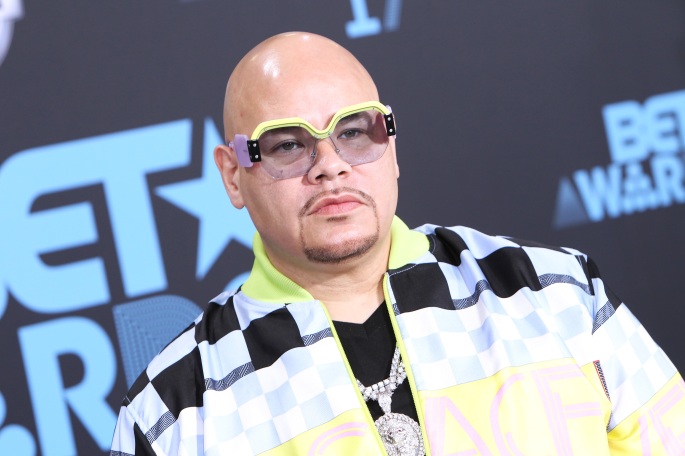 In a video that was shared on social media over the weekend, Fat Joe offered some advise to wannabe rappers. He claims that musicians who don't have record deals or aren't yet financially comfortable should work a normal job to augment their income.
"If your man said he raps and he don't have a deal. There's a problem with that," he told his audience on Instagram Live. "It's called plan A, get a job. Plan B, hope you make it. This has never changed. Some guys be like, 'I gotta get a regular job?' Bro, you gotta get a job! If you got kids and you got this girl that got an apartment and y'all sexin' it up every day, you got to pay some bills." From there, he quoted Nas' hit song, "Life's A Bitch." He remarked, "And that dollar and a dream — 'That buck that bought the bottle could've struck the lotto.' Nah!"
Fat Joe In Concert
NEW YORK, NEW YORK – OCTOBER 21: Fat Joe performs onstage with Angelica Vila during the TIDAL's 5th Annual TIDAL X Benefit Concert TIDAL X Rock The Vote At Barclays Center – Show at Barclays Center of Brooklyn on October 21, 2019 in New York City. (Photo by Theo Wargo/Getty Images for TIDAL )
Fans weren't entirely happy with the message Joe put forth. When the clip was posted to the Hip-Hop Wolf Instagram account, one commented, "It's too many people out here telling people how to live their lives." Another wrote: "I bet Joe would have hated for someone to tell him that and crush his dreams when he was coming up. Smh! Then he brings the women into it to make matters worse Smh!"
Fat Joe's Advice To Aspiring Rappers
Despite the advice from Joe, the legendary rapper previously called the major label system a "Ponzi scheme." "I don't believe in these people," he said during an interview with Wall Street Journal, earlier this month. He added that major labels "do funny math."
Follow our socials Whatsapp, Facebook, Instagram, Twitter, and Google News.