Big Brother Naija star, Pere Egbi, has warned people not to tell him to his face that he should support the administration of President Bola Ahmed Tinubu.
The reality TV star and former US soldier issued this warning in reaction to UK-based Nigerian comedian, Klinton, who warned people telling him to support Tinubu's government since his preferred candidate, Peter Obi, did not win the election.
The comedian had tweeted,
"We all wanted Peter Obi to win but unfortunately Tinubu won, let us support him". You can tweet that nonsense cos its your data but if you say that rubbish to my face man to man knowing fully well how he was declared, I might be violent with you no joke."
In response, Pere threatened to deal with anyone who dares tell him to his face to support Tinubu. According to him, his "military hands will touch their spirit".
"I dare anyone to say this to my face. You can tweet this in the comment section blah blah blah but I dare anyone to say this to my face, these military hands will touch your spirit," he tweeted.
This comes shortly after the inauguration ceremony of President Bola Tinubu in Abuja on Monday, May 29.
See below,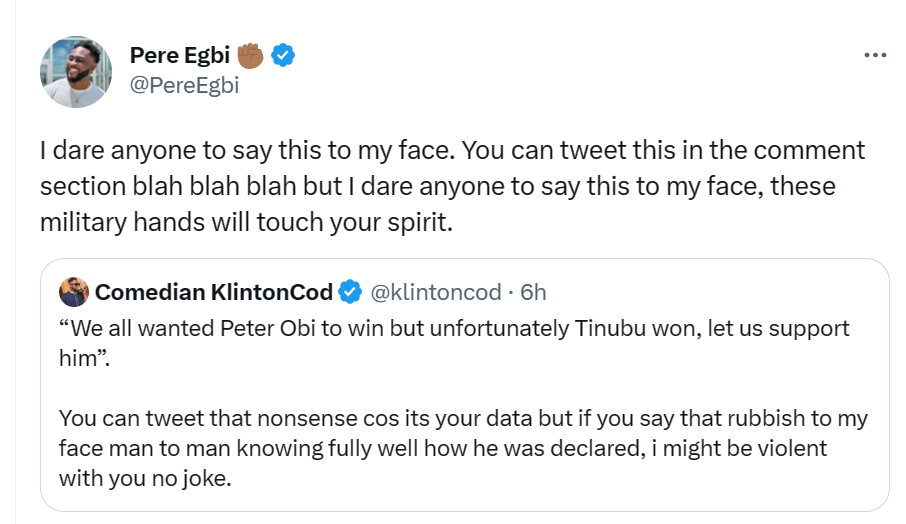 Follow our socials Whatsapp, Facebook, Instagram, Twitter, and Google News.