How to restore iOS's Twitter apps since it have been updated and are now called "X," you might miss the old blue bird logo. It reminds me of a similar time when Twitter had problems, but at least Elon Musk didn't own it.
We can trick ourselves into thinking that Twitter is still run by a different short-sighted billionaire by using the favorites app on iOS. We're lucky!
Here's How to restore iOS's Twitter icon:
Find the Shortcuts app on your iPhone and open it. If you have a later iPhone, this should already be on it. If not, you can find it in the App Store. As long as your iPhone has iOS 12.0 or higher, you should be fine.
You'll tap "All Shortcuts" from the Shortcuts app's main screen, which, you got it, is called "Shortcuts."
Once you've done that, you can set up a new Shortcut by clicking the blue plus sign in the upper right part of your screen.
Shortcuts can be used for a lot of different things, but we're just going to keep things easy here. You should see "Open App" as a possible move for your new shortcut. Touch it.
Now, you'll be asked to set up a new "Open App" option. Next to "Open," click "App" to look for the X app. Choose that.
Once you've chosen the "X" app, tap the "share" button on the bottom menu bar. This will open a new menu from which you can choose "Add to Home Screen."
Here, at last, is where you can change your Shortcut's name and picture. Don't type "Open App." Instead, type "Twitter." Then, tap the small icon next to where you wrote Twitter to create a shortcut.
You can add a picture of the Twitter sign here. But unless you're a very special type of person, you probably don't have that on your phone already. Just search Google for "Twitter icon." You won't have much trouble finding one. We used this one.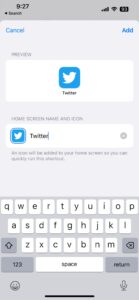 And that's it! You can now convince yourself that we are in a slightly less cursed timeline than the one where Elon Musk changes Twitter's name to X and the Twitter icon doesn't look like a porn app (which wouldn't even get accepted on the App Store, anyway). You all should be happy.
Follow our socials Whatsapp, Facebook, Instagram, Twitter, and Google News.