Google is rolling out new Search enhancements to assist in the removal of users personal data, privacy, and online safety. The firm revealed today that it's making it easier for users to identify and remove results about themselves and revising its personal explicit picture policy to remove them from Search.
The search giant will launch a dashboard to notify users of online results with their contact information on Search. The new dashboard builds on Google's "Results about you" tool from last year and makes it easy for removal of personal data search results with your phone number, home address, or email. This new dashboard lets you rapidly request Google contact information removal.
---
You can access this tool in the Google app by clicking on your account photo and selecting "Results about you." In the U.S., the tool is only available in English, but Google is expanding to other languages and locations.
Google included a precaution this year to prevent accidental exposure to explicit imagery on Search. With this upgrade, Search results for explicit imagery like adult or graphic violent content will be blurred by default. This month, all users worldwide will get SafeSearch blurring. Unless a guardian or school network administrator locks the setting, you can alter and turn it off at any time.
The business also makes parental controls easy to locate in Search. Type "google parental controls" or "google family link" to see a window with instructions on how to manage your parental controls.
Google currently lets users remove nonconsensual explicit imagery from Search, but now they may remove explicit stuff they uploaded.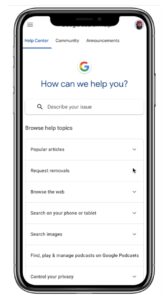 "We have long had policies that enable you to remove non-consensual explicit imagery from Search," Google said. We're expanding these protections to allow users to delete personal, explicit photographs from Search. If you uploaded explicit content to a website then deleted it, you can request its removal from Search if it's being published elsewhere without permission. This guideline does not apply to commercial content."
Note that deleting content from Google Search does not remove it from the web or other search engines. Google hopes these adjustments will provide customers more control over private Search data.
Follow our socials Whatsapp, Facebook, Instagram, Twitter, and Google News.