Super Falcons star and Houston Dash defender, Michelle Chinwendu Alozie, has shattered the hearts of her male fans after revealing that she has a crush on Super Eagles midfielder, Alex Iwobi.
The American-born player who gained recognition during the 2023 FIFA Women's World Cup in Australia, made this revelation during a recent virtual interview with Pulse in response to a question about who she is crushing on in the Super Eagles team.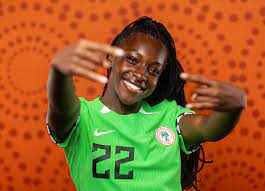 One of the interviewers said, "I'll ask you this question, but you can decide to waive it; just as we've got some tempting, beautiful, good-looking ladies in the national team, we've got the same thing when it comes to the Super Eagles of Nigeria. Have you got any crush among those players?"
Without hesitation, the 26-year-old who also works part-time as a cancer research technician at the Texas Children's Hospital in Houston, Texas, mentioned Alex Iwobi.
"I'll say Alex Iwobi," she replied.
Watch a short clip from the interview watch clip below
A while back, A beautiful Nigerian lady, Jessica Levi took to her Twitter page to share screenshot of chat she sent to international footballer Alex Iwobi, three years ago.
Jessica who was 18 at the time, had a crush on the Nigerian professional footballer, and kept trying her luck in his DM.
18-year-old Jessica sent several messages to the footballer on Instagram, as she constantly professed her love for him.
Follow our socials Whatsapp, Facebook, Instagram, Twitter, and Google News.