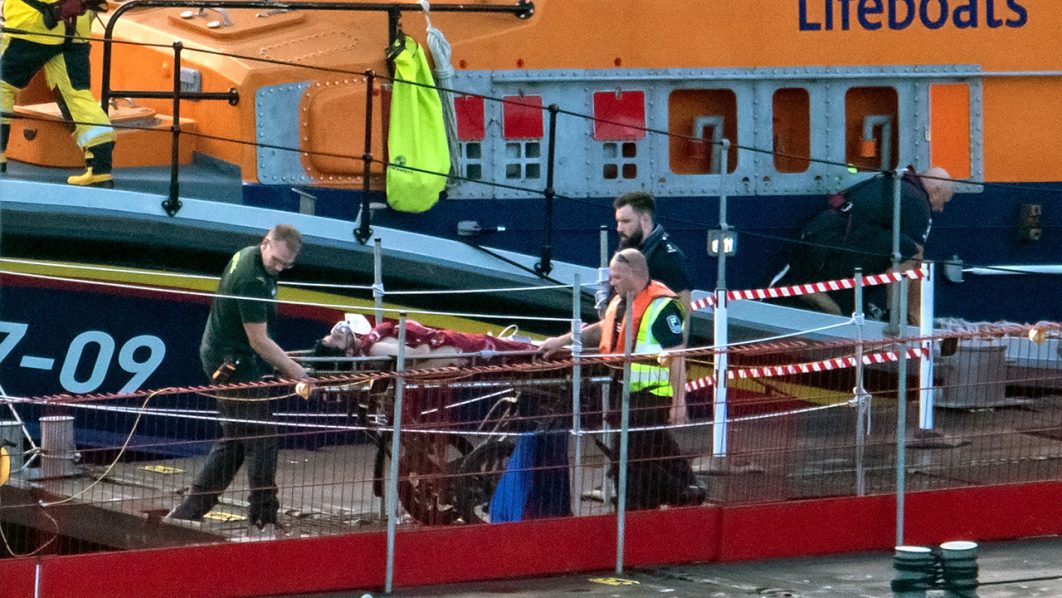 ---
Six Afghans died when a migrant boat heading to Britain sank in the Channel on Saturday, French officials said, as a search continued to find those still missing.
"This shipwreck is a terrible human tragedy," French State Secretary for the Sea Herve Berville told reporters at the port of Calais, the hub for rescue operations.
He denounced "criminal traffickers" who send migrants "to their death" and pledged to fight their smuggling networks.
The deputy public prosecutor for the coastal city of Boulogne, Philippe Sabatier, told AFP all six fatalities were Afghan men believed to be in their 30s.
The rest of the passengers were "almost all Afghans with some Sudanese, mostly adults with some minors", he added.
The French and British coastguard services rescued 61 survivors, said Berville.
French coastal authority Premar said up to two people could still be missing and that search efforts would continue until nightfall.
"My thoughts and prayers are with those affected by the tragic loss of life in the Channel today," British interior minister Suella Braverman said on social media site X, formerly known as Twitter.
French Prime Minister Elisabeth Borne posted that her "thoughts go out to the victims" as she praised the efforts of the rescue teams.
Border 'repression'
"It's pretty tough, they're humans. You will never get used to bringing back dead bodies," said Regis Holy, the captain of a boat that retrieved five of the victims.
"There will be even more tragedies… they (migrants) risk everything, it will never stop," he added.
A spokesperson for the Utopia56 humanitarian group blamed border "repression" for the tragedy, telling AFP the difficulty of securing legal passage only "increases the dangerousness of crossings and pushes people to take more and more risks to reach England".
Calais mayor Natacha Bouchart of the right-wing Republicans party denounced a "failure" by the French government to stop such crossings and demanded migrants be moved inland.
In England, the MP for the Channel port of Dover, Natalie Elphicke, a member of the ruling Conservative Party, also called for more effective French government action.
"Today's tragedy underlines why we must stop the small boats to keep people safe and prevent loss of life in the Channel," she wrote on Twitter, now known as X.
"These overcrowded and unseaworthy deathtraps should obviously be stopped by the French authorities from leaving the French coast in the first place," she added.
Perilous crossing
The boat capsized at around 2:00 am local time (0000 GMT) off the northern coast of France, according to the prosecutor.
An AFP reporter in Calais saw some of those rescued disembarking from a patrol boat with emergency services on site.
The Channel between France and Britain is one of the world's busiest shipping lanes and strong currents are common.
Around 1,000 migrants are on the northern French coast waiting for an opportunity to cross the Channel, according to the authorities.
More than 100,000 migrants have crossed the Channel on small boats from France to southeast England since Britain began publicly recording the arrivals in 2018, official figures revealed on Friday.
French authorities have stepped up patrols and other deterrent measures after London agreed in March to send Paris hundreds of millions of euros annually towards the effort.
In recent days there have been several attempts to cross the Channel in boats after weather conditions improved.
Overnight Thursday, Premar reported that 116 migrants had been rescued, including children, on three separate boats.
Some 755 migrants were detected on Thursday on 14 small boats headed for England's southern coast, UK interior ministry statistics showed, the highest tally on a single day this year.
Those boats brought the number of arrivals so far this year to nearly 16,000.
The figures have piled pressure on British Prime Minister Rishi Sunak's government, which has made "stopping the boats" a key priority ahead of general elections due next year.
Five migrants died at sea and four went missing while trying to cross to Britain from France last year.
In November 2021, 27 migrants died when a boat capsized in the Channel.
The following year saw a record 45,000 migrants make the crossing.
Follow our socials Whatsapp, Facebook, Instagram, Twitter, and Google News.