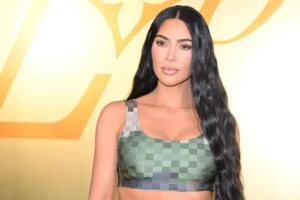 According to Page Six, Tom Brady was reportedly "playing the field" while attending Michael Rubin's Fourth of July party. "He was talking to different women," a source told the publication. It's an incredibly low bar to use when claiming that Brady was actively "playing the field". But sure, he's a regular Cassanova because he talked to people at a party.
Kim Kardashian, on the other hand, was apparently one person he wasn't rizzing up. At the Hamptons party attended by A-listers, including Kim Kardashian. Additionally, a few publications, like The New York Post, asserted that Brady had been overtly flirting with Kardashian. According to some stories, Brady had even been seen dancing with the business magnate and reality personality. A source, however, disputed that this happened. Kim and Tom told Page Six that they were good friends and that they respected one another much. But a fresh source seems to call all of this denial into question.
Photo Of Tom And Kim At White Party Emerges
According to the infamous anonymous gossip outlet Deuxmoi, Kardashian and Brady did interact at Rubin's White Party. The outlet published one of their signature anonymous tips, complete with a picture that purported to show Kardashian and Brady in conversation. While neither individual is facing the camera, Kardashian's distinctive outfit from the event can be partially seen. This has once more sparked rumors that there is something not-so-platonic between the two superstars. "[They] were super flirty with each other," a source reportedly told Page Six.
However, a different source said that the pair only talked "briefly", throwing the rumors very much into question. "I've been seeing some posts speculate whether or not Kim and Tom actually spent time together at the party and I wasn't gonna send this initially bc it felt creepy but I do have a photo of them together lol," read the message sent to Deuxmoi alongside the picture of the pair. Despite all this, the situation is incredibly questionable and feels like a few people making some big reaches in the pursuit of gaining that sweet, sweet internet clout.
Follow our socials Whatsapp, Facebook, Instagram, Twitter, and Google News.