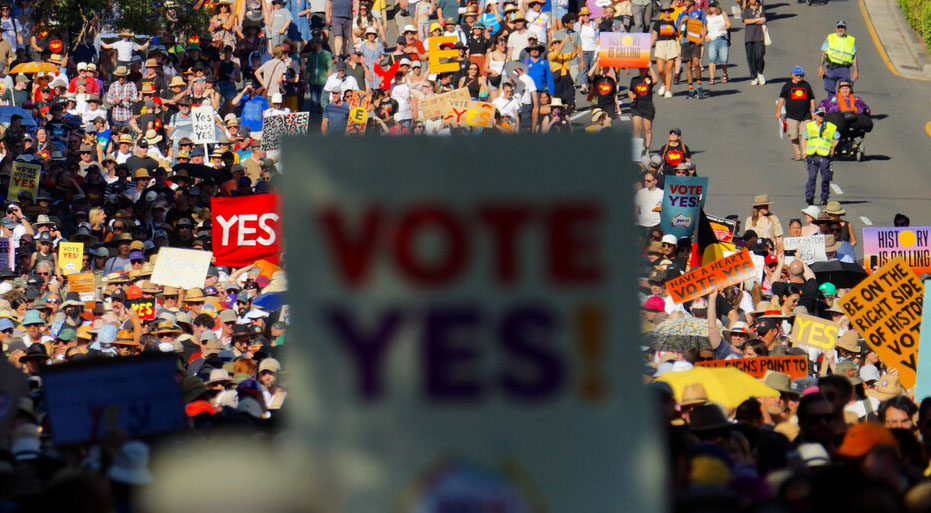 ---
Australians rallied around the country on Sunday to fight for a landmark Indigenous rights reform that is bleeding support in the polls before an October 14 referendum.
Tens of thousands joined "Walk for Yes" events in major cities ahead of the vote that could grant Indigenous Australians a constitutionally enshrined right to be consulted on policies that affect them — a so-called Voice.
More than 200 years since British colonization, Indigenous people — whose ancestors have lived on the continent for about 60,000 years — have shorter lives than other Australians, poorer education, and are far more likely to die in police custody.
"I think we need a voice in parliament and I think it's about time," said Laurel Johnson, a 58-year-old retired Indigenous community services worker who joined hundreds of people at the Sydney rally, many seeking shade during a spring heatwave.
Asked if the Voice would improve the lot of Indigenous people, she said: "I jolly well hope so."
Her sister Priscilla Johnson, 53, said some Indigenous people still lived in "Third World" conditions.
"Australia is considered a First World country. The poor social determinants of health have been continuous since the 1788 invasion," she said, referring to the landing of the First Fleet that established a British penal colony in Australia.
In Melbourne, more than 10,000 supporters marched through the streets, some with banners reading: "You're the voice, vote yes".
Thousands more gathered in Canberra, Perth, Brisbane, Darwin, Hobart and Alice Springs.
But the "Vote Yes" campaign, launched just weeks ago by Prime Minister Anthony Albanese, faces an uphill battle.
Recent surveys show about 60 percent against the reform versus 40 percent in support — a near reversal of the situation a year ago.
Follow our socials Whatsapp, Facebook, Instagram, Twitter, and Google News.