In a recent turn of events, the Malaysian government has decided to reverse its initial plan to take legal action against Meta, the parent company of social media giant Facebook, for alleged issues related to harmful content.
The decision comes after a series of discussions and consultations between the authorities and representatives from Meta.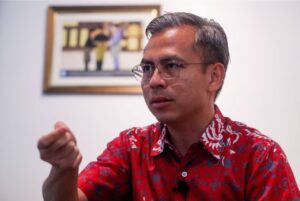 The issue  has been a matter of concern for many countries, including Malaysia, as social media platforms have become instrumental in disseminating information and shaping public opinion. In response to growing concerns over the impact of harmful content on society, the Malaysian government had previously indicated its intention to pursue legal action against Meta.
However, following extensive dialogues with Meta's executives and acknowledging the company's efforts to address harmful content, the government has chosen to take a more collaborative approach. Both parties have committed to working together to combat the spread of harmful content on the platform.
As part of this collaboration, Meta has pledged to strengthen its content moderation mechanisms, improve its reporting systems, and enhance its efforts to identify and remove harmful content swiftly. The company has also assured the Malaysian government of its commitment to abide by local laws and regulations.
This reversal of legal action is a significant development in the ongoing efforts to strike a balance between freedom of expression and the need to protect users from harmful content. It highlights the importance of cooperation between governments and technology companies to address the challenges posed by social media platforms effectively.
The Malaysian Communications and Multimedia Commission (MCMC), which had previously spearheaded the potential legal action, will now focus on collaborating with Meta and other stakeholders to create a safer online environment for Malaysian users. This includes promoting digital literacy and educating the public about responsible internet usage.
It's important to note that this decision does not diminish the seriousness of harmful content concerns. Instead, it emphasizes the value of cooperation and the potential impact of constructive engagement between governments and tech companies to tackle these issues collectively.
As the digital landscape continues to evolve, discussions around harmful content, privacy, and user safety are expected to remain at the forefront of the agenda for governments and technology companies worldwide. The Malaysian government's decision to reverse its legal action against Meta signifies a step towards finding collaborative solutions to these challenges, while safeguarding the rights and well-being of internet users.
Follow our socials Whatsapp, Facebook, Instagram, Twitter, and Google News.