Cisco Launches New AI; On Tuesday, Cisco Systems introduced new networking chips for artificial intelligence supercomputers, which will compete with products offered by Broadcom (AVGO.O) and Marvell Technology (MRVL.O).
Cisco has stated, without identifying the companies, that chips from its SiliconOne series are now being evaluated by five of the six main cloud providers. According to Bofa Global Research, the major players in the cloud computing market include Amazon Web Services, Microsoft Azure, and Google Cloud. Together, these three companies own the majority share of the market.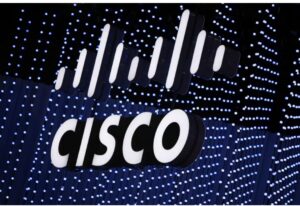 ---
Because of the increasing use of artificial intelligence programs like ChatGPT, which are run by a network of specialized chips known as graphics processing units (GPUs), the speed at which these individual chips interact has become of the utmost significance.
Cisco is a prominent producer of networking equipment, including ethernet switches, which are used to connect various devices to a local area network (LAN). These devices include PCs, laptops, routers, servers, and printers.
It was stated that the most recent generation of its Ethernet switches, which go by the names G200 and G202, have twice the performance of the generation that came before them and are capable of connecting up to 32,000 GPUs together.
"G200 & G202 are going to be the most powerful networking chips in the market fueling AI/ML workloads enabling the most power-efficient network," stated Cisco fellow and formerly principal engineer Rakesh Chopra.
According to Cisco, the chips could assist in carrying out AI and machine learning operations with 40 percent fewer switches, less lag, and greater efficiency in terms of power consumption.
In April, Broadcom introduced the Jericho3-AI chip, which has the capacity to link up to 32,000 GPU devices in a single system.
(This article has been updated to reflect that testing is being done on all of the chips in the SiliconOne series, not just the new chips, as stated in paragraph 2)
Follow our socials Whatsapp, Facebook, Instagram, Twitter, and Google News.