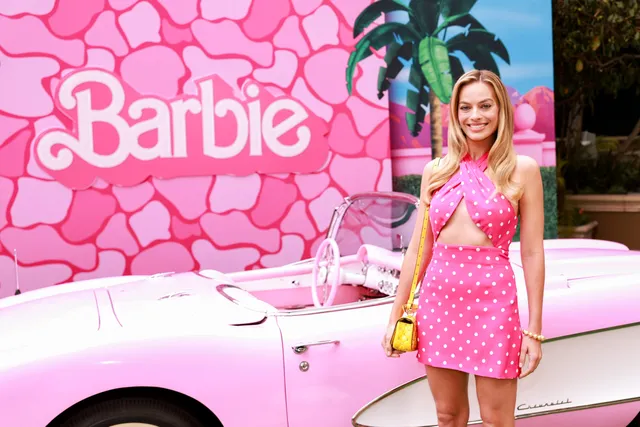 Barbie has officially surpassed the $1 billion mark at the box office, as its success continues three weeks into its run. According to official Warner Bros estimates cited by CNN, the film's global box office earnings are currently at $1.03 billion.
The figure comes after the film's titular star, Margot Robbie, recently revealed that she predicted it would reach a billion dollars while originally meeting with studios. "I think I told them they'd make a billion dollars which, maybe I was overselling, but we had a movie to make!" she told Collider.
Margot Robbie At The Premiere Of "Barbie
LOS ANGELES, CALIFORNIA – JULY 09: Margot Robbie attends the World. Premiere of "Barbie" at Shrine Auditorium and Expo Hall on July 09, 2023 in Los Angeles, California. (Photo by Axelle/Bauer-Griffin/FilmMagic)
Paul Dergarabedian, senior media analyst at Comscore, told CNN that Barbie's marketing campaign was "unprecedented" and "unpredictable." He explained: "The marketing campaign for 'Barbie' set into motion a chain of events that led to the word 'Barbenheimer' being added to the popular lexicon by virtue of its shared release date with 'Oppenheimer,' and that's when we all knew something very special and unique was going to create a much bigger than expected outcome for the film not only for the opening weekend, but for its global run in theaters." He also noted that only approximately 50 films in history have hit the billion-dollar mark when not adjusted for inflation.
BoxOffice Pro chief analyst Shawn Robbins explained Barbie's popularity by citing the broad appeal of its story. "Driving that discourse is the film's embrace of what generations of women have both loved and hated about the brand and what it's often represented in the past," Robbins said while adding that it "has tapped into cultural conversations about gender roles and female empowerment that aren't bound by international borders."
Barbie first hit theaters on July 21, 2023, coinciding with the release of Christopher Nolan's Oppenheimer. Alongside Robbie, the film stars Ryan Gosling, America Ferrera, Kate McKinnon, Issa Rae, Rhea Perlman, as well as Will Ferrell.
Follow our socials Whatsapp, Facebook, Instagram, Twitter, and Google News.