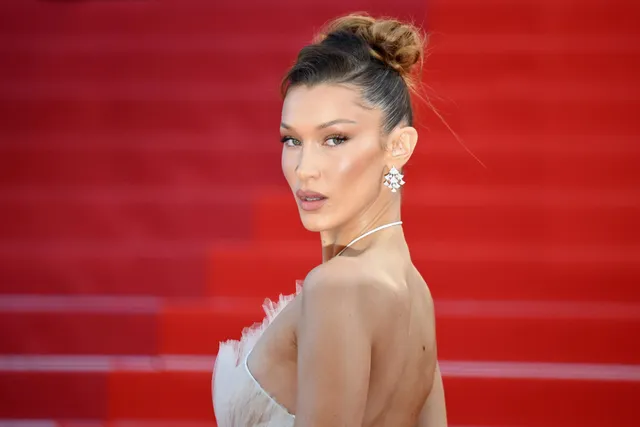 Bella Hadid says that she's "finally healthy" after spending over 100 days being treated for chronic Lyme disease. She provided an update on her health for fans on Instagram, Sunday, while sharing photos from the hospital.
"Thankful to my mommy for keeping all of my medical records, sticking by me, never leaving my side, protecting, supporting, but most of all, believing me through all of this," Hadid began in the post.
Bella Hadid During Paris Fashion Week
PARIS, FRANCE – JULY 05: Bella Hadid is seen, outside Louis Vuitton Parfum hosts dinner at Fondation Louis Vuitton, on July 05, 2021 in Paris, France. (Photo by Edward Berthelot/Getty Images)
Hadid continued: "Living in this state, worsening with time and work while trying to make myself, my family and the people who support me, proud, had taken a toll on me in ways I can't really explain. To be that sad and sick with the most blessings/privilege/opportunity/love around me was quite possibly the most confusing thing ever. one thing I want to express to you all is that 1: I am okay and you do not have to worry, [heart emoji] and 2:I wouldn't change anything for the world. If I had to go through all of this again, to get here, to this exact moment I'm in right now, with all of you, finally healthy, I would do it all again. It made me who I am today."
From there, she tried to provide motivation for followers dealing with their own struggles. "Take a step away, stay strong, have faith in your path, walk in your truth and the clouds will start to clear up," she advised. She added that the entire ordeal has given her "perspective on life."
Bella Hadid Explains Health Troubles
https://www.instagram.com/p/Cvmz8ilAcxx/?utm_source=ig_embed&ig_rid=582e9400-2f41-4ce4-9e02-e8a593f9c3f3&ig_mid=B7B3B51F-6714-47B9-9E38-086E9D97B35A
Hadid concluded: "Thank you for the patience of the incredible company's that I work for, my supporters and the people who continued to check in. My agents Jill and Joseph for protecting me. I love and appreciate you more than I can ever express. Thank you to my genius Dr, and her INCREDIBLE team of nurses. I love you SO much!!! I'll be back when I'm ready. I miss you all so much."
Follow our socials Whatsapp, Facebook, Instagram, Twitter, and Google News.