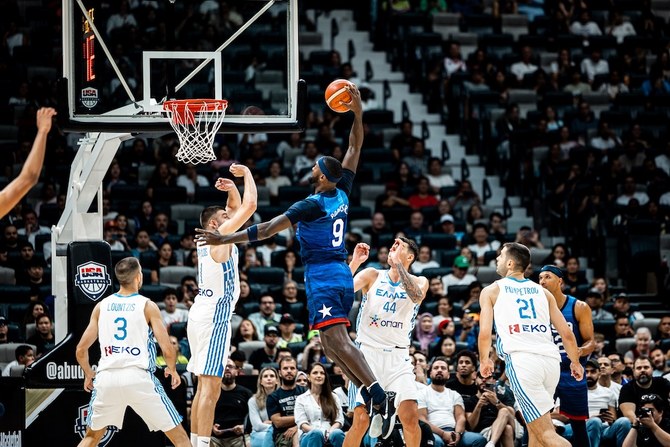 ---
ABU DHABI: The USA men's national basketball team made their first appearance in the UAE on Friday night, beating Greece 108-86 in front of a sold-out crowd at the Etihad Arena in Abu Dhabi.
The match was part of a double-header on day two of the inaugural International Basketball Week. In the earlier game, Mexico beat Lebanon 88 – 70, with Joshua Ibarra scoring a team-high 20 points for Mexico.
Lebanon, Mexico, Egypt, Germany, Greece and the US are all taking part in International Basketball Week — a series of exhibition games ahead of the 2023 FIBA World Cup, which will take place in the Philippines, Indonesia and Japan from Aug. 25 to Sept. 10.
Reflecting on their time in the UAE, Mexico's head coach Omar Quintero said: "It's always good to finish with a win before the World Cup to give us that confidence. We've got a tough group, but we feel prepared. The fans and the public have shown us so much love since we arrived. It's incredible that Abu Dhabi is promoting basketball here — the fans, the hospitality, and the arena are amazing."
In their game against Greece, the USA — playing in the region for the first time — took a 32-17 first-quarter lead and never looked back. The US were led by the Minnesota Timberwolves' Anthony Edwards, who scored a game-high 21 points. Nikos Rogkavopoulos and Panagiotis Kalaitzakis scored 12 points apiece for Greece.
Center Walker Kessler of the Utah Jazz said: "It was a lot of fun, we've got incredible depth in our team, so all 12 of us are unbelievably talented and we all play the right way. Greece are obviously very skilled, they're very physical, so I'd say playing them now, before the (group stage) of the World Cup, is advantageous. My experience in Abu Dhabi so far has been awesome; the people are so friendly, and the hospitality and food is unbelievable."
The USA next play on Sunday against Germany. Team USA features NBA All-Star Jalen Brunson (New York Knicks), 2022-23 Defensive Player of the Year Jarren Jackson Jr. (Memphis Grizzlies) and 2022-23 Rookie of the Year Paolo Banchero (Orlando Magic), under the watchful eye of head coach Steve Kerr (Golden State Warriors). Germany features brothers Franz and Moritz Wagner (Orlando Magic), Dennis Schröder (Toronto Raptors) and Daniel Theis (Indiana Pacers).
Follow our socials Whatsapp, Facebook, Instagram, Twitter, and Google News.