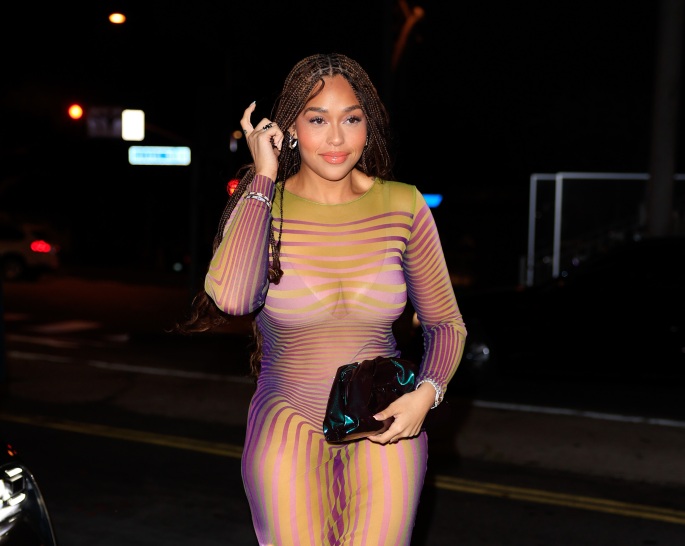 The ideal way for Jordyn Woods and Karl-Anthony Towns to commemorate their third wedding anniversary was for them to travel to sunny Dubai. The model has been sharing pictures of herself on Instagram with fans, showing off both her bikini figure and stunning scenery. In contrast, her sports companion has been busy snapping the aforementioned photos of Woods and gleefully claimed credit for them in the remarks of one of her latest posts.
After being slammed in the comments for wearing a revealing swimsuit in the Middle East, the 25-year-old opted to cover up her curved in one of her own designs for Sunday's (May 28) post on her feed. "Across the world with @woodsbyjordyn 🤍," Woods wrote in the caption of her carousel, shamelessly promoting her recently launched fashion line. For this photo shoot, she posed in a curve-hugging black dress with sheer sleeves, making her noticeably slimmer figure obviously stand out in stark contrast to the beige-coloured building behind her.
Jordyn Woods Takes Dubai
As you may recall, the Life of Kylie star was previously slammed by a TikToker over her Woods by Jordyn brand's quality. Rather than running from the hate, the California native faced it head-on, sharing a positive response to the feedback which only earned her more praise in the public eye. "OK I just want to lead with wow you look phenomenal in the dress, I honestly think you look so good. Thank you for buying the dress – you look great," Woods began her video.
"I also want to thank you for giving my brand, which we just started on Monday, so much publicity. She continued, "There is a way to be honest and true without bringing other people down or other influencers into it. There is always room for constructive criticism, and I'm always listening to the customer to see how I can get better and develop.
More Vacation Photos
Check out more photos from Jordyn Woods' trip to Dubai below.
Follow our socials Whatsapp, Facebook, Instagram, Twitter, and Google News.