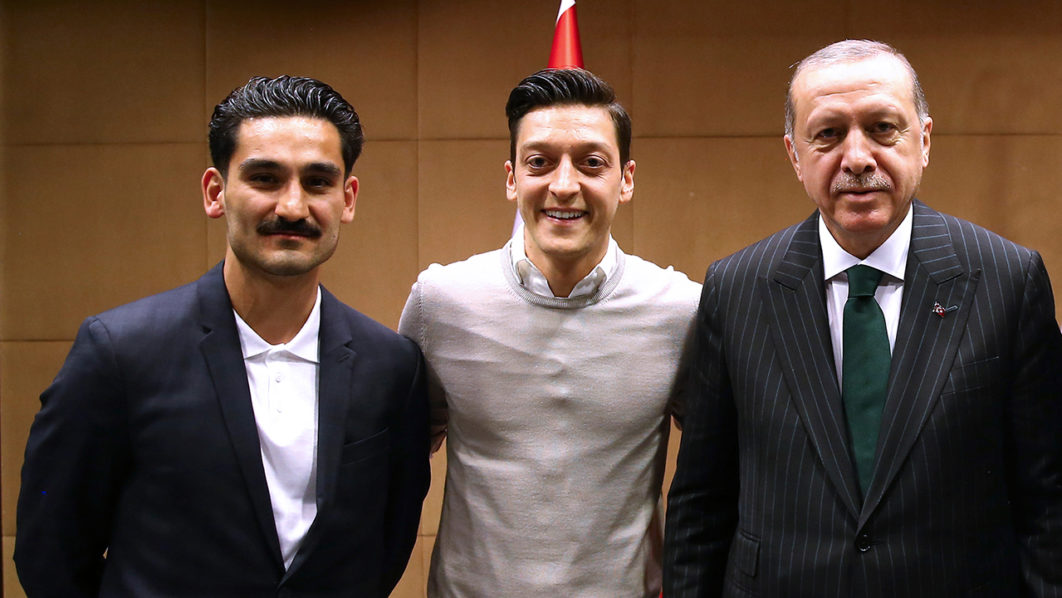 ---
Five years after a photo with Turkish President Recep Tayyip Erdogan sparked questions over his loyalty to Germany, Ilkay Gundogan will captain the national side during Saturday's international friendly against Turkey in Berlin.
Gundogan, who has never faced Turkey despite making his Germany debut more than a decade ago, told AFP subsidiary SID "it will be a very special game for me — no question about it".
Named by former Germany coach Hansi Flick in September, Gundogan, 33, is the first footballer of Turkish descent to captain the four-time world champions.
The Barcelona midfielder's rise through the ranks of the German national team is all the more remarkable given the 2018 photo with Erdogan who Gundogan also handed a shirt written "with respect to my president".
Along with then star midfielder Mesut Ozil, Gundogan had found himself in the middle of a political storm.
But while Ozil dramatically quit the team, Gundogan has quietly endured whistles and insults from the stands and has had to work his way back into favour.
The Barcelona midfielder was picked to replace injured goalkeeper Manuel Neuer as skipper but new coach Julian Nagelsmann has said Gundogan will remain captain for Euro 2024 on German soil, even if the 2014 World Cup winner returns.
Erdogan will be in Germany later Friday for talks with German leaders, but he is not expected to attend the friendly or meet the players.
– 'Deep blow' –
Born in the industrial German city of Gelsenkirchen, home to fallen football giant Schalke, Gundogan's grandfather was one of thousands of Turkish 'guest workers', having moved to Germany to work in the mines.
Growing up, Gundogan helped his father deliver beer crates throughout the football-mad Ruhr region, until his talent for the game became obvious.
Gundogan moved to FC Nuremberg and later Borussia Dortmund, where he scored a penalty in the 2013 Champions League final loss to Bayern Munich.
At international level Gundogan made his debut for Germany in 2011 but missed their 2014 World Cup triumph with a back injury.
The midfielder moved to Manchester City in 2016 and won numerous honours, captaining the Premier League side to a remarkable treble in 2022-23.
Gundogan moved to Barcelona in the summer of 2023, just after he was named German Footballer of the Year for the first time.
Despite his undoubted quality on the pitch, Gundogan's time in a Germany shirt has not always been smooth sailing.
Following the controversial photo with Erdogan, Gundogan and Ozil came under heavy fire in Germany.
The row was all the more sensitive as Germany, particularly the capital Berlin, is home to the biggest Turkish community abroad.
German FA (DFB) chief Reinhard Grindel issued a statement saying the picture was "not a good thing", saying "football and the DFB stands for values that Mr Erdogan does not respect sufficiently".
Gundogan said at the time "to now be portrayed as if we were not integrated or did not live according to German values was a deep blow for me".
– 'Great festival' –
While Ozil finished his career in Turkey and asked Erdogan to be his best man at his 2019 Istanbul wedding, Gundogan established himself as one of Germany's best players.
His ties to Turkey remain firm.
"My grandparents, parents and other relatives still live in Turkey, in Izmir, and of course I also have many friends there," he said.
Gundogan said he "travels to Turkey at least once a year" and sent trucks full of relief supplies to the south of the country after the 2022 earthquake.
Gundogan congratulated Turkey for qualifying for Euro 2024, saying he "at least watches the highlights" of their games.
On meeting them on the field, Gundogan said he was "really looking forward to a great festival of football" on Saturday.
While both countries have qualified for Euro 2024 already, the fixture remains important for a Germany side reeling after two World Cup group stage exits in a row.
Follow our socials Whatsapp, Facebook, Instagram, Twitter, and Google News.