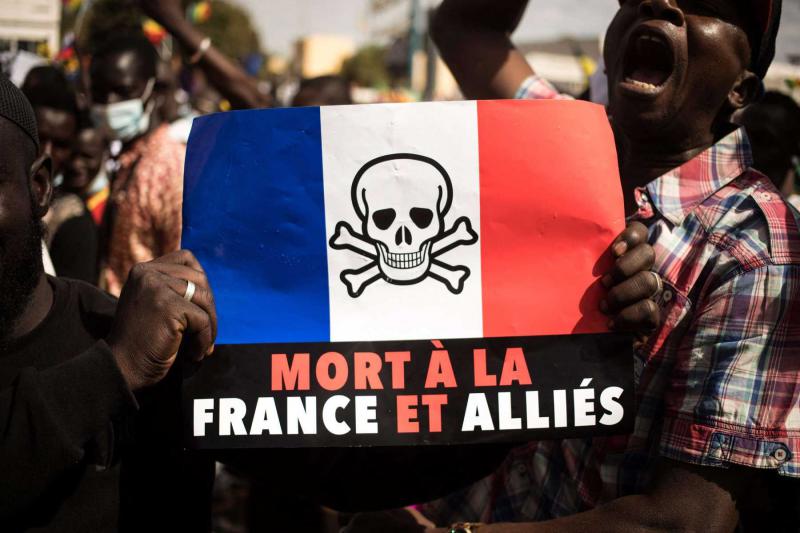 ---
Francophone Africa has increasingly scorned its former colonial master France, a political shift that at times has incited violence, and has been encouraged by Russian actors, according to a report published Wednesday.
While leaders, faced with their own political failures, have used post-colonial ties as a scapegoat for the issues of the day, the general public has increasingly adopted the sentiment, said the report by the French Institute of International Relations (IFRI).
In Chad, Mali and more recently Burkina Faso, violent protests have erupted against French firms such as energy giant TotalEnergies or at the arrival of French diplomats.
The extent of the phenomenon exceeds "what we have seen in previous decades" and could "take root for a long time", Alain Antil, one of the researchers behind the report, told AFP.
Anti-France feelings have intensified as a result of "the disappointing economic and political trajectories" of the countries, he said.
Antil said this results in France receiving the ultimate blame "for the non-development of these countries and the corruption of their elite", an argument that also helps the countries' leaders to dodge responsibility.
This rhetoric was able to blossom in part because France was slow to respond, "being in a space of denial", until very recently, he said.
But the study showed "a link between the Russian propaganda war and certain areas of African social networks."
It is undeniable that social networks are disseminating disinformation such as videos or photos of French soldiers appearing to steal gold or "getting along with jihadists", according to Antil.
"Obviously, Russia is playing their part, having an impact, and financing anti-French campaigns," he said.
But he warned against solely blaming Russian propaganda, adding that anti-French attitudes are also heavily informed by France's military presence and development aid policies and funding.
The number of French troops in French-speaking Africa has dropped dramatically from 30,000 in the early 1960s to just around 6,100 today, but the sense of Paris's intervention and control in the region remains, he said.
France has over the last year pulled its troops out of Burkina Faso and Mali after authorities made clear that French forces deployed to fight Islamist insurgencies were no longer welcome, as presence grows in the region of Russian mercenary group Wagner.
The report, which studied newspapers and social media from the region, didn't offer recommendations to respond to the shift.
Antil said that French-speaking African countries need to be "treated as equals" rather than receiving lectures in the political arena.
Follow our socials Whatsapp, Facebook, Instagram, Twitter, and Google News.