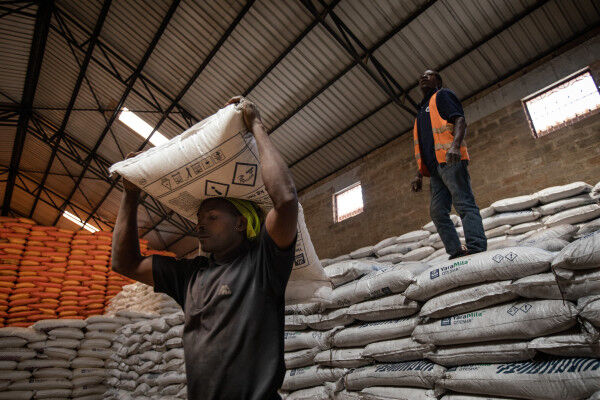 The World Bank has retained Nigeria alongside Afghanistan, Somalia, South Sudan and Yemeh as hotspots of global food security concerns, raising a red flag on the governments' capacity to weather the storm.
It is not the first time Nigeria would feature on the list but the World Bank's latest Food Security Update says the countries "remain of highest concern for the June to November 2023 outlook".
The report obtained from the Bank's website also elevated Haiti, Sudan and the Sahel region (Burkina Faso and Mali) to the level "of the highest concern" in the stubbornly-high food inflation economy.
Previously, the World Bank identified Borno and Yobe states as areas where food insecurity could deteriorate to a crisis condition in the year.
The two North East states, according to the World Bank, could join western and southern Katsina, northern and southern Sokoto, northern and central Zamfara and some parts of Kaduna among others hitherto placed on the food crisis watch list.
"In many of these countries, organized violence and armed conflict continue to be key drivers of acute food insecurity. Economic risks also factor into food insecurity trends, with the global economy expected to slow in 2023 amid monetary tightening in advanced economies, persistently high international commodity prices, and an overall reduction in donor support to offset global hunger.
"Weather extremes remain significant drivers of food insecurity in some countries and regions," the latest report highlights, adding that 81.4 per cent of lower-middle-income countries, where Nigeria belongs, are still contending with above five per cent food inflation rate.
Nigeria's food inflation remains above 24 per cent as per the National Bureau of Statistics (NBS)' consumer price index (CPI) reading in April.
Last month's inflation data are yet to be released but economists believe headline inflation growth, which is driven by the food price crisis, would remain upbeat and spike to about 30 per cent in June on the account of subsidy removal.
The pump price of premium motor spirit (PMS) has gone by about 200 per cent following the ending of the age-long PMS consumption support programme by the new administration. Transport and other essential services have responded while analysts believe the new prices could work their way through other markets in a matter of months.
At the global scene, the World Bank update, insists: "Domestic food price inflation remains high around the world. Information from the latest month between January 2023 and April 2023 for which food price inflation data are available shows high inflation in most low- and middle-income countries, with inflation higher than five per cent in 70.6 per cent of low-income countries, 81.4 per cent of lower-middle-income countries, and 84 per cent of upper-middle-income countries, with many experiencing double-digit inflation.
"In addition, 80.4 per cent of high-income countries are experiencing high food price inflation. The most-affected countries are Africa, North America, Latin America, South Asia, Europe, and Central Asia. In real terms, food price inflation exceeded overall inflation in 84.5 per cent from 161 countries where data is available."
But it is a mixture of hope and despair on the global food inflation dashboard. The report admits that since the last update on May 18, 2023, agricultural, cereal and export price indices closed between four and three per cent lower.
Follow our socials Whatsapp, Facebook, Instagram, Twitter, and Google News.