The news website Semafor reported on Thursday that Twitter has threatened to sue Meta Platforms over its new Threads network. The story cited a letter that Twitter's lawyer Alex Spiro addressed to the CEO of Facebook's parent company, Meta Platforms, in which he made the threat.
Threads, which was released by Meta on Wednesday and now has more than 30 million sign ups, is the company's attempt to compete with Twitter, which is owned by Elon Musk, by utilizing the billions of users that Instagram has.
In his letter, Spiro accused Meta of recruiting former Twitter employees who "had and continue to have access to Twitter's trade secrets and other highly confidential information," according to the newspaper. Spiro's accusations were made against Meta for hiring former Twitter employees.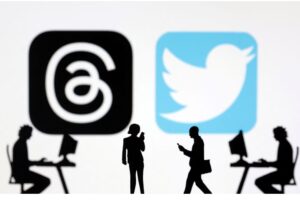 ---
Spiro said in the letter that Twitter plans to strictly protect its intellectual property rights and asks that Meta take immediate steps to stop using any Twitter trade secrets or other highly private material. Twitter also demands that Meta take urgent steps to stop using any other highly confidential information.
Andy Stone, a spokesperson for Meta, stated in a post on Threads that none of the members of the Threads engineering team had previously worked for Twitter since "that's just not a thing."
Reuters was told by a person who had previously held a senior position at Twitter that the person was unaware of any former employees working on Threads or any senior personnel who had moved on to work at Meta.
Twitter may sue Meta as Musk responded to a tweet that cited the news by saying, "Competition is fine, cheating is not." The message mentioned the news.
Competition is fine, cheating is not

— Elon Musk (@elonmusk) July 6, 2023
Twitter has seen increased competition from other social media platforms, such as Mastodon and Bluesky, ever since Elon Musk took control of the social media network. The user interface of Threads, on the other hand, has an uncanny resemblance to that of the microblogging platform.
However, keyword searches and direct messaging are not currently supported in Threads.
A request for comment from Reuters was not immediately met with a response from Spiro.
Reporting by Akash Sriram, Tiyashi Datta in Bengaluru and Katie Paul in New York; Editing by Shailesh Kuber
Follow our socials Whatsapp, Facebook, Instagram, Twitter, and Google News.