After two years of delays, Tesla  finally manufactures its first Cybertruck at the electric vehicle manufacturer's plant in Austin, Texas, as announced in a tweet on Saturday.
First Cybertruck built at Giga Texas! 🤠 pic.twitter.com/ODRhHVsd0t

— Tesla (@Tesla) July 15, 2023
The long-awaited pickup truck was initially revealed by Elon Musk, the founder of Tesla, during an event in 2019. However, the unveiling didn't go as planned, as the designer of the car accidentally broke the purportedly impenetrable "armor glass" windows.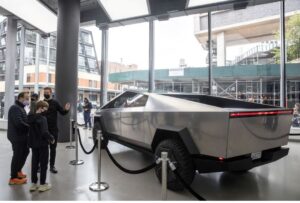 ---
Following the initial announcement, Tesla faced numerous challenges that caused delays in the production timeline. Musk cited limitations in sourcing components as the primary reason for pushing back the debut of the Cybertruck until 2023. Over time, the company faced further setbacks, resulting in additional rescheduling of the production date.
Despite the delays, Musk expressed his ambition to produce a significant number of Cybertrucks per year, aiming for a quarter of a million units, depending on the demand. This ambitious production target reflects Tesla's confidence in the market potential of electric pickups and their desire to establish a strong presence in this highly lucrative segment.
The introduction of the Cybertruck marks Tesla's entry into one of the most profitable segments of the U.S. market—the electric vehicle (EV) pickup truck category. With competitors like Ford Motor (F.N) and Rivian Automotive (RIVN.O) already launching their own electric pickups in limited quantities, Tesla now joins the race with its unique offering. The Cybertruck's futuristic design, innovative features, and the cult following surrounding Tesla's brand are expected to generate significant interest and demand among consumers.
The news of Tesla's plans to commence mass production of the Cybertruck by the end of 2023 was reported by Reuters the previous year, indicating the company's commitment to meeting the timeline and fulfilling customer orders. As production ramps up, Tesla aims to position itself as a major player in the rapidly growing EV market, leveraging the popularity and success it has achieved with its other models like the Model S, Model 3, and Model Y.
Tesla Manufactures the first Cybertruck as a  significant milestone for Tesla, signaling the company's progress in expanding its product lineup and diversifying its offerings beyond sedans and SUVs. With the market eagerly awaiting the arrival of the Cybertruck, Tesla's entry into the electric pickup truck market is expected to fuel further competition and innovation in the EV industry as a whole.
Follow our socials Whatsapp, Facebook, Instagram, Twitter, and Google News.