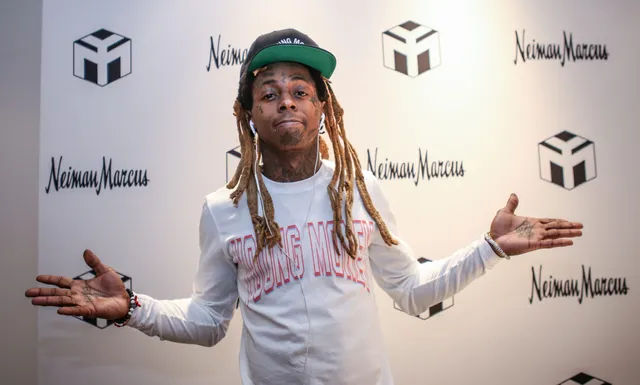 Lil Wayne recently discussed the ways that he feels he's influenced the next generation of hip-hop artists. In doing so, he explained that he believes he is a major reason for the rise in popularity of face tattoos. Wayne discussed the idea during an interview with Billboard for one of the outlet's pieces celebrating hip-hop's 50th anniversary.
"Sometimes people ask me how I feel about everybody looking like me, everybody getting tattoos, etc," he began. "That's like seeing your kid come out of the room and looking just like you; it feels amazing. So the visible influence is kind of obvious because I know for a fact I didn't get this look from anyone. There was no one that inspired this look. I just ran into looking like this. (Laughs.) But other than that, I hope that my work ethic [is influential as well]."
Lil Wayne At The Grammys
LOS ANGELES, CALIFORNIA – FEBRUARY 02: Lil Wayne attends the Recording Academy Honors presented by The Black Music Collective during the 65th GRAMMY Awards on February 02, 2023 in Los Angeles, California. (Photo by Johnny Nunez/Getty Images for The Recording Academy)
Later in the interview with Billboard, Wayne discussed his placement on the outlet's ranking of hip-hop's 50 greatest rappers. Of landing in sixth place, Wayne remarked: "That's awesome. You would be happy to be anywhere on that list." As for his own personal top five, Wayne revealed: "There's no specific order, but it's simple. For me, it's always been Missy Elliott, Jay-Z, UGK, Goodie Mob, and Biggie."
Of his selections, Wayne explained: "It's because I organically grew up on [them]. You know, when you're asked, 'How'd you start listening?,' there's a story for everybody … like, someone I know told me to start listening or whatever. But like I said, every decision I make is organic."
Lil Wayne For Billboard
Wayne is set to perform at the hip-hop 50th-anniversary concert at Yankee Stadium on August 11. As for what fans can expect, he remarked: "Do not set expectations for me, because I will always exceed them. So just go there with a clear mind, expect the best — and I'll be better than that."
Follow our socials Whatsapp, Facebook, Instagram, Twitter, and Google News.