Nollywood actress, Dayo Amusa has taken to social media to complain bitterly after being forced to carry a carton of rice on her head in the US.
According to her, such a thing can never happen in Nigeria because she has someone to help with menial activities or at least someone would have offered to help her.
However, in the US, she's left with no choice but to carry her load by herself because she doesn't have a help.
She added that America will indeed humble you because their system doesn't respect your celebrity status as a Nigerian.
Amusa shared a photo of herself carrying rice on her head and wrote,
"America 🇺🇸 go level you up 🙄….. I no dey carry load back home o, Atleast person go don help me sha ni 🙄 My PA need Yankee visa asap 🤣"
See her post below,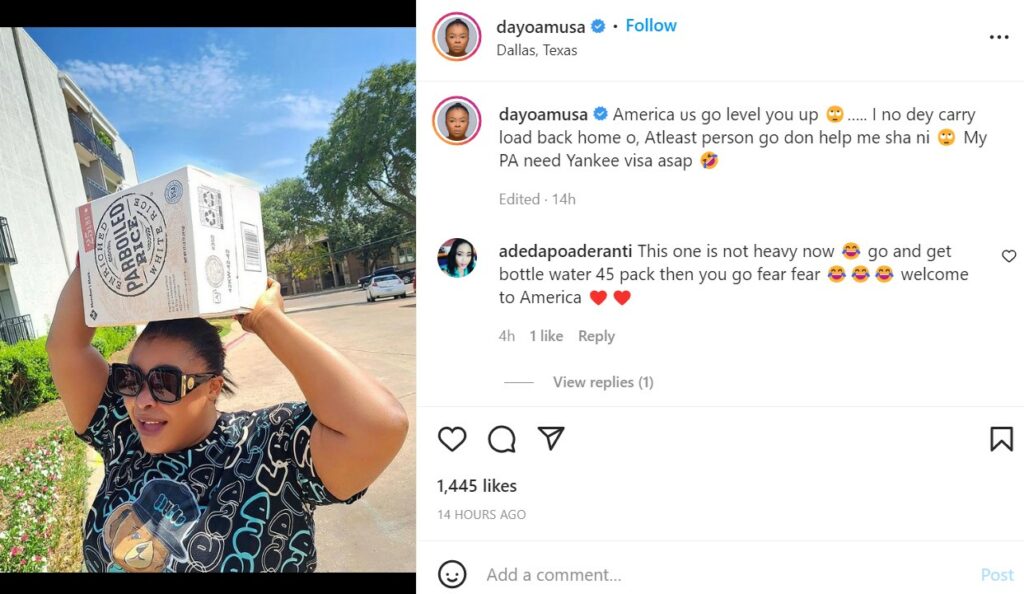 A while ago, Dayo Amusa took to Instagram to share a thought-provoking piece about the value of money.
The 37-year-old actress opined that money would be worthless if everybody is rich. According to her, the only thing that gives money value is because some people have it, while others don't.
She further questioned why there is so much financial comparison and competition in the world
Follow our socials Whatsapp, Facebook, Instagram, Twitter, and Google News.